An escalator is the ideal means for transporting large numbers of people inside shops, department stores, and stations without waiting times. In itself, it is a very safe mode of transport – safer than the stairs, for example. But an escalator is only safe if it is used safely.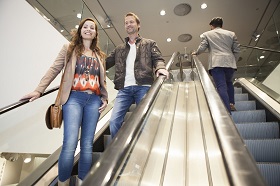 LIFTINSTITUUT HIGHLIGHTS ELEVATOR AND ESCALATOR SAFETY
Every year, during the Safety Awareness Week, Liftinstituut is drawing extra attention to elevator and escalator safety. An online campaign, a press campaign, this dedicated site and the site www.elevator-safety-instructions.com are intended to make elevator and escalator users more aware of how they themselves can contribute to safety. Among other things, Liftinstituut demonstrates how to identify a safe elevator and escalator.